It's been quite a few months since I've had a chance to share some of my favorite things. Honestly, I'm trying so hard to cut back on purchases since we are house hunting. I've tried to focus on buying necessities—though that definition varies from person to person. At any rate, here are some of my favorite things from the past two months.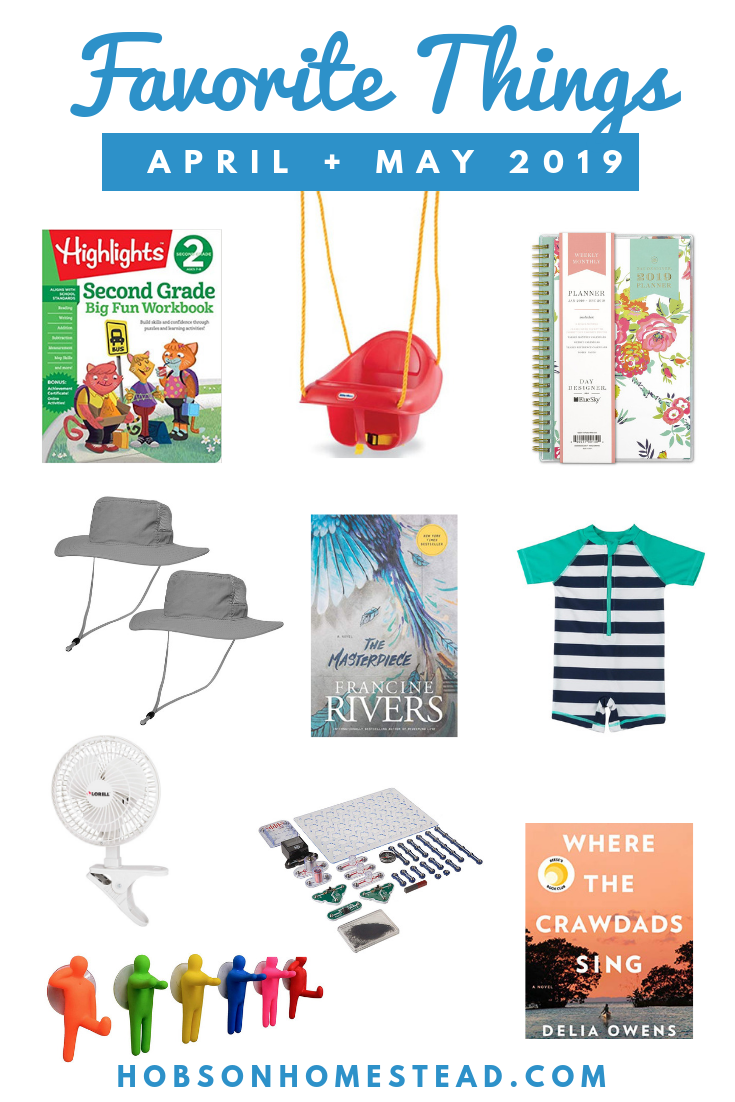 Favorite Things from April + May
Highlights Workbooks
So I know that school has only been out for the summer a few days, but my kids are already hankering for some schoolwork. After searching online, I bought them each a Highlights workbook: 2nd, Kindergarten, Preschool. So far this summer, they have been a lifesaver—the best $10 I've spent in a while.
Baby Swing
When it comes to cheap, durable baby swings, this one takes the cake. We installed it at the edge of our carport so we could swing Grady while the big kids play outside. Another bonus is that it's one safe place I can put him when I need to have my hands free or when the big kids do riding toys all over the driveway. I don't have to worry about him when he's in the swing.
Yearly Planner
I've purchased several different brands of planners over the past few years. For a couple years, I ordered pricier Erin Condren planners. But after discovering this cheaper smaller (5″ x 8″) planner (that includes a section for daily to-dos!), I don't see myself going back to more expensive planners anytime soon.
Kids Floppy Hats
If you've seen my Instagram posts, Team Floppy Hat is in full force this summer. Though my husband, Scarlett and I all have Columbia floppy hats that we love, I just couldn't see ordering my boys the somewhat expensive brand name hats (especially since Beau lost his Columbia hat a couple years ago). But I found this knock-off version on Amazon and the two-pack is the price of one Columbia hat! So my boys will be sporting these hats all summer and can even wear them in the boat because of the chin cord.
The Masterpiece
When I was hunting for book recommendations a couple months ago, a friend suggested Francine Rivers. I started with her book Redeeming Love, and though it is a great book, parts of it were hard for me to stomach. So I followed it up with another of her books called The Masterpiece, which I think appeals to a broader audience. It's a great, easy summer read if you need a recommendation—and just a heads up that it's categorized in the Christian Romance genre (I had no idea there was one!?)
One-Piece Rashguard
Between the lake, splash pad and beach, Grady (10 months) will be in water all summer—especially if these hot summer temperatures only increase. Sometimes, rashgards are so hard to get over a baby's head so I ordered this one-piece rashguard to make baby life a little easier. Grady mostly wears 18 months clothes, so I purchased him the 18/24 month size. He probably could have worn the 12/18 month rashguard but I wanted him to be able to fit in it through September.
Clip-On Fan
Summer can be so hot for babies, especially when they're strapped in a stroller or padded carseat. And poor Grady is already sweating all the time because of his orthotic helmet. So to keep him cooler this summer, I ordered a clip-on fan that is rechargable. I clip it on his stroller when we're out and about and also clip it on the top of his carseat pointed at his helmet when we're in the car. The clip itself is very strong and clips onto most anything.
Snap Circuits
When my oldest child turned 7 years old at the end of December, we gifted him this Snap Circuits set. He's a STEM kid and loves figuring things out. He's loved following the suggested circuit routes as well as coming up with his own routes. And though my middle kids (ages 5 and 4) can't only create simple routes, they are enamored with the set as well. I love toys and activities that teach kids to think.
Toothbrush Holder Set
I got tired of my kids leaving their toothbrushes all over the counter. Half the time, they would get knocked onto the floor and I've even found them in the nearby laundry basket. I didn't want to get a toothbrush holder cup because I needed to separate the brushes in case one got sick. We got this colorful toothbrush holder set just in time, because last week my oldest came down with strep throat, which turned into scarlet fever. Thankfully, my middle kids didn't get it and I'm chalking a lot of that up to their toothbrushes being separated. And bonus, the set also comes with two other hangers that could be great for hanging bath sponges.
Where the Crawdads Sing
This book is booming in popularity and I know so many people who are reading it or just finished it. Everyone agrees that Where the Crawdads Sings is a better than great read. It's not your typical beach read, though it could certainly be read at the beach. It's refreshingly unique in both its setting and plot. It tugs at your heartstrings while you cheer on the main character.
Do you have any book recommendations?