Check out these accountability tips for reading the Bible consistently that focus on the strength of other believers as well as creating routine prompts.
Consistently reading the Bible each day is a spiritual discipline that requires daily submission, a faithful routine and a commitment to follow through even when life gets busy or hard. Furthermore, reading the Bible in a year raises the bar by assigning a certain amount of chapters of the Bible to be read each day.
Related: How to Prep for Reading the Bible in a Year
While we all like to think of ourselves as believers who prioritize our commitments, the truth is, our level of commitment ebbs and flows over any given season or year. After all, we're human and have been prone to self-serving and self-justifying behavior ever since The Fall in Genesis.
This is why Christian accountability is so important when it comes to our spiritual disciplines, such as daily Bible reading. We are too prone to serve our own interests and priorities, justifying them in the process.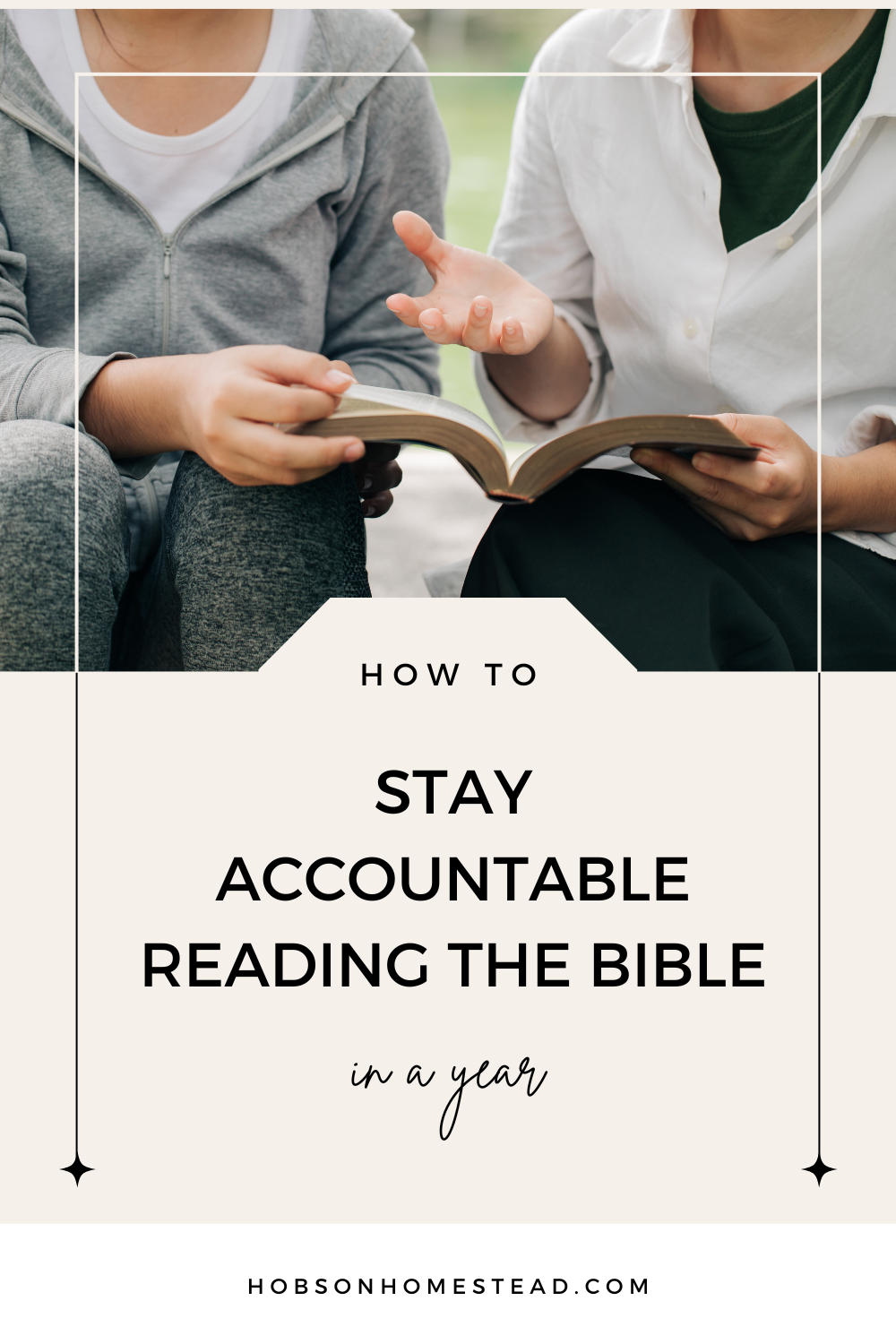 Yes, there will be days out of our control when sickness or busyness or dryness throw a kink in our Bible reading routine. But instead of feeling overwhelmed or giving up, accountability provides that much-needed candor and boost of strength we need to keep going, even if we've fallen behind.
Related: So You've Fallen Behind Reading Your Bible in a Year? Now What?
Biblical accountability is about taking responsibility for our actions by submitting them to Christ and to the ongoing examination of other believers. Submitting our desires to Christ may sound as if we're not taking any action, but giving up our own selfish desires and allowing God's will and wants to lead us requires movement and effort—both mental and physical.
If you've committed to daily Bible reading—on your own or through a yearly Bible reading plan—it's essential you set yourself up for success through accountability. From getting accountability through other believers or creating routine practices, what matters is that these personal and physical cues encourage and remind you to stay in the word daily.
5 Ways to Get Accountability Reading the Bible Daily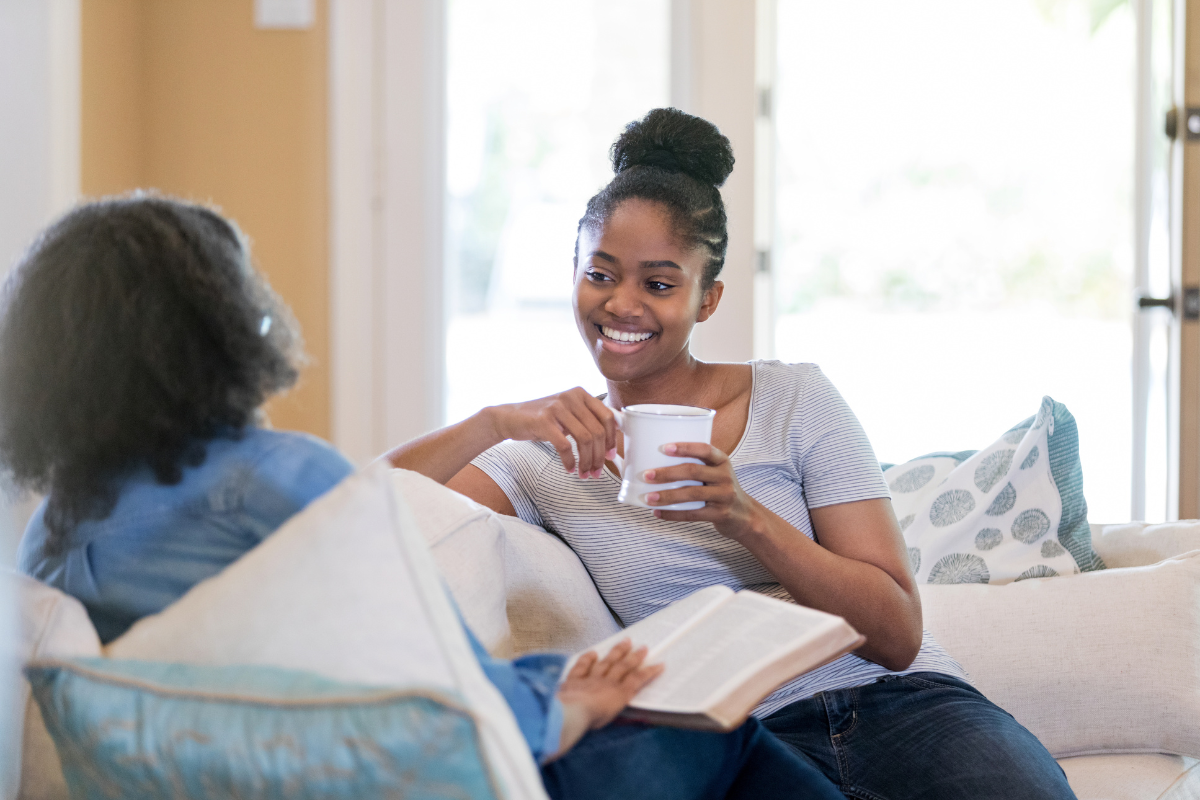 Ask Your People
One of the best ways to practice Biblical accountability is by reaching out to your people. This could mean your best friend, your spouse, or a family member such as a parent, aunt or grandparent. Find a fellow believer who knows you well, has insight into your personal tendencies and will pray for you.
Explain to them your commitment to reading the Bible daily or in a year and give them permission to check in on you periodically. Here are some questions they can ask you:
How is your daily Bible reading going?
What are you learning about God?
Are there any habits that are hindering your Bible reading time?
Have you experienced any frustrations or dry seasons?
Join an Online Group
Online groups are a great way to stay on track while reading the Bible in a year. They give you a chance to walk alongside others who have made the same commitment as you, as well as share insights and encouragement along the way.
If you go the the Groups area of Facebook and search for Bible in a Year, you'll find several private groups with hundreds of members who have committed to the same goal as you. These groups offer support and shared insights to help keep you motivated and on track.
If you personally know of other believers who are committing to reading the Bible in a year, you can create your own private Facebook group. That's what I did for a group of 20 women at my church. I use the group to post the daily reading plan and we pose questions about passages that we can't make sense of as well as insights, scripture we loved and commentary we found useful. It's a great way to keep up with those in your circle even when meeting together is hard.
Other platforms such as GroupMe, Slack, Zoom, Reddit and more can offer easy, virtual ways to set up or join an existing online group for Christian accountability.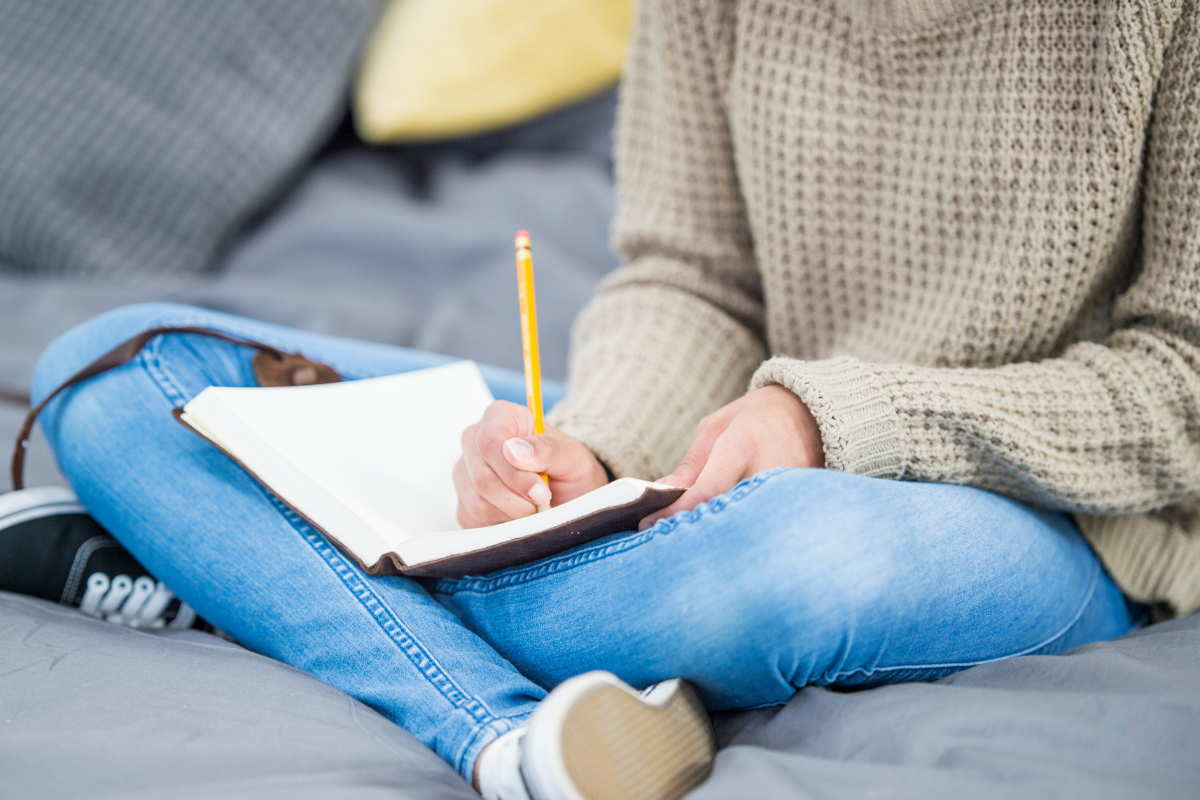 Add Cues to Your Prayer Journal
When the reading the Bible gets confusing, you lack motivation or you don't understand the significance of passages, consider writing out your frustrations or bulleting them in a prayer journal. The point of penning your prayers is to open the lines of communication with God, even if you aren't understanding him through his written word.
Seeing your written word can help you flesh out your frustrations with consistently reading the Bible and allow you the space to pour out your heart to God, confessing any misuse of time, deficiencies of desire and wrongly ordered priorities.
Of course, if you're already reading the Bible daily, this prayer journal can serve as a place where you thank God for giving you a craving for his word each day and asking him to fan that flame. You can use your journal as a place where you go back and reflect on answered prayers and God's faithfulness in all seasons.
Set Phone or Calendar Reminders
With technology at our fingertips, it's time we use technology to make spiritual advancements. If your life is thick with hustle and bustle, you may benefit from a digital prompt reminding you to take a few minutes to slow down and read your Bible.
Maybe you set your alarm for early in the morning with the message: Rise and Bible Time. Maybe mornings are hectic and you prefer to read during your lunch break at work. Use your calendar to block off 30 minutes so you have uninterrupted time.
Use a Bible app? Set up a daily reminder at the appropriate time to prompt you to read or listen to the Bible each day.
There are also dozens of habit tracker apps that you can customize to manage your Bible reading progress. These can be especially useful if you're wanting to incorporate multiple disciplines into your routine, as they can track several habits.
Some popular free habit tracker apps include:
Post Physical Prompts
In addition to digital reminders, physical prompts can greatly influence your memory and rein back in your focus as you commit to reading the Bible consistently. Everyone responds differently to tangible prompts, so you'll have to test out a few ideas to see what works best for you.
Consider some of these options:
Stick a post-it note to your bathroom mirror.
Put a small cross on your dashboard so you see it during carline drop-off, on your way to work, on your way to run errands, on your way to the gym, on the way to kids' sports practices, etc.
Place your Bible besides your coffeemaker at night so you see it first thing in the morning.
Create a screen saver for your phone so that you see a reminder to read your Bible every time you open it.
Post Colossians 3:16 above your desk at home to remind you to read God's word.
Start Now to Set Up Accountability Reading the Bible
If you've committed to reading the Bible daily, be aware that the enemy will do everything possible to not only get you off track, but keep you off track. That's why it's crucial to set up accountability through trusted Christian mentors, online support groups and other routine prompts that you can do yourself.