Use these tips to focus on Jesus, celebrate with others and fill your home with Christmas joy this holiday season.
So much gets lots in translation during the Christmas season. Maybe it's all the retail advertisements, the Santa sightings or the constant push of worldly magic.
Over the centuries, humans have upped their holiday celebration game, jumping from bestowing simple homemade gifts to presenting elaborate spreads from Santa Claus on Christmas morning.
And don't get me wrong, I'm not saying Santa is wrong. Santa still comes to visit my little ones.
But the key is: Santa is not the Savior and his elf is not John the Baptist.
This is something I remind my kids of nearly every day during the Christmas season. It's easy for them to forget with all the secular hustle and bustle going on around them.
Related: 11 inexpensive ways to show biblical hospitality this Christmas
The simplistic yet monumental birth of Jesus is a great reminder for me: There are so many simple ways to illustrate joy and hope in my home at Christmas that can have far-reaching impact.
But as the spearhead of Christmas festivities in my home (my domain), it's up to me to set the tone, to hone the focus, to show the love and, ultimately, to make the ties back to Jesus.
So to fill your heart and home with joy and hope this Christmas, consider these tips, and just make sure that you keep focusing on Christ no matter the festivity or activity.
Listen to Christmas Music
Thanks to advances in technology, we can listen to Christmas music with just the touch of a button on our phones. Festive songs such as White Christmas and Rudolph the Red-Nosed Reindeer are fun, but Christian Christmas carols are my favorite. Not only are many based off old hymns and biblical scripture, but the words and classic musical tunes fill my soul and offer words of hope and peace.
This music reminds us why we should be jolly and merry this time of year—because of the birth of our Savior.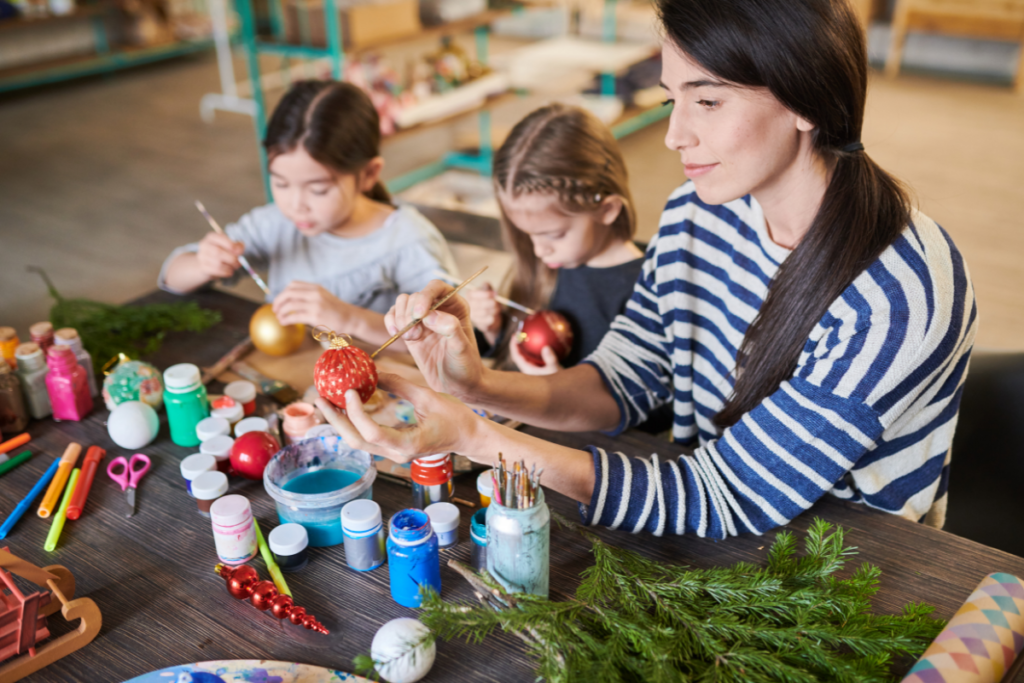 Plan Christmas Crafts
If you have kids, grandkids or neighborhood kids in the area, one of the most memorable ways to get in the spirit of Christmas is to plan Christmas crafts. It may get messy and loud and chaotic, but painting ornaments, putting together a toy nativity set, creating homemade decorations for your tree and other crafts will help you to focus on your people and gratefulness.
Make Festive Food
Nothing brings people together like good food. Christmas is the perfect season to go all out in the kitchen. Here are some ideas for how to use festive food to bless others this Christmas:
Cook a large meal and invite over new friends or someone who will be lonely over the holidays.
Bake Christmas cookies to deliver to your neighbors, public service employees or medical workers.
Prepare a simple hearty dinner for a family in need.
Put Up Cozy Meaningful Décor
As women, we are drawn to beautiful things. And as much as Christmas isn't about decorations, it's OK to use your home to point other to Jesus. Not only can décor be a great reminder to your own family of Jesus' birth, but it can also influence anyone who walks through your doors.
In between your Santa décor and Christmas stockings, consider adding a Nativity set that is a constant reminder of why we celebrate this season. I love adding angels and framed Christmas hymn lyrics to help center my thoughts during Christmastime.
Open Your Home to Others
The Christmas season is a time to open your home to others to share in the hope that Christ's birth represents. Welcoming others into your home can be the simplest, most meaningful way to spread Christmas joy to others.
Do you have a widow or widower who lives in your neighborhood or attends your church? Invite him or her over for a family dinner during December.
Do you live on a street with a bunch of kids? Welcome them in with a Christmas cookie decorating contest.
Do you know a friend or acquaintance who is grieving this Christmas? Invite them over for coffee and dessert and show them warmth and care inside your home.
Watch Christmas Movies
Once the sun begins setting at 5:30 p.m. and the temperatures begin cooling off quickly, there's no better way to enjoy the comfort of home during the Christmas season than by cozying up with a good Christmas movie.
Make a movie night for your little family or invite over family friends or the neighborhood kids. Prepare popcorn and hot cocoa and have plenty of plush blankets ready.
Some of our favorite holiday movies, depending on the age of the movie watcher, include The Star, The Grinch, Prancer, The Polar Express, Charlie Brown Christmas, Santa Clause, It's a Wonderful Life, Elf, A Christmas Story, Rudolph the Red-Nosed Reindeer and more.
Focus on Giving, Not Receiving
As adults, it is slighter easier for us to focus on the act of giving at Christmas, thanks to years of experience realizing that tangible things never last. But it's a lesson that could take years for our kids to grasp.
That's why it's so important for us to set the example for our kids during Christmastime. Here are a few ways that I am reinforcing the act of giving instead of receiving for my kids this Christmas. Hopefully, these ideas will help you to jumpstart your own ways to inspire your kids:
Place straw for acts of kindness in The Giving Manager.
Make homemade treats for neighbors.
Write handwritten Christmas notes for friends.
Volunteer to pass out gifts to single moms in our community.
Help serve tea at our church's candlelight service.
Buy small thoughtful Christmas gifts for each other.
Choose an Advent Study
One of my favorite ways to build anticipation during Christmastime is to participate in an Advent study. For many years, I've completed Advent studies via She Reads Truth, Ann Voskamp, Paul David Tripp and this year I'm studying the meaning and history of many well-known Christmas hymns.
For my kids, we have read a chapter of Luke each day in December in the past. But this year, we are really enjoying a nightly reading of Jotham's Journey.
Whether you do a personal Advent study or a family study, focusing on Christ's coming is a way to keep your focus on the true meaning of Christmas throughout the whole month of December.
Have Christmas Books Handy for Kids
Every December since my oldest was a toddler, I've checked out an assortment of Christmas picture books from our local library. I log into my account online and put 20+ books on hold for pickup (that's a lot, but I do have four kids!). When the sun sets early and we are forced inside in the evenings, this gives another activity option for my kids during Christmastime. They love reading through the beautifully illustrated books as well as taking turns reading them to their younger brother.
How do you fill your home with Christmas joy?
Like this article? Pin this image!