This Carnivore Salmon Patties recipe is so good that even your friends who eat everything will love the flavor. Simply mix salmon, pulled pork, bacon, eggs and crushed pork rinds—then fry up on your stovetop.
When my husband and I started the Carnivore Diet, I went searching for recipes in preparation for our first couple of weeks. But I quickly realized there are only so many ways to mix meat with meat, so we stuck with cooking basic cuts of meat the first two weeks, including lots of steak and hamburgers.
But every once in a while, it's nice to change things up. And that's where this recipe for Carnivore Salmon Patties comes into play. It combines a few kinds of meat, along with egg and pork rinds.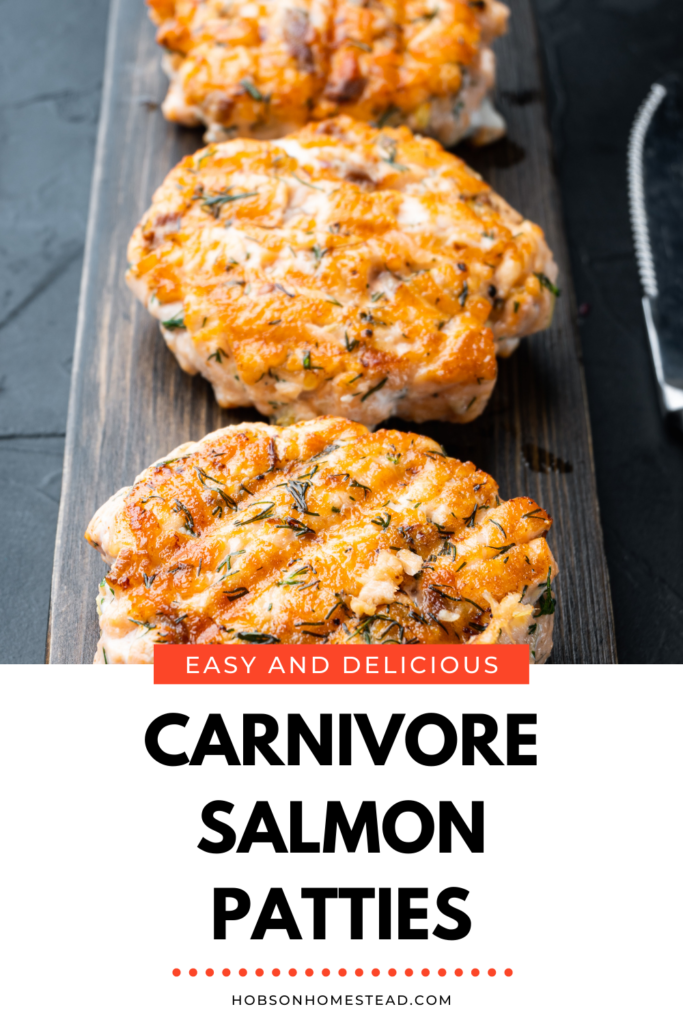 Even if you're not a big seafood person, this Carnivore Salmon Patties recipe is the perfect mix of surf and turf without much fishy taste. Costco sells a 6-pack of tasty wild caught Alaska Pink Salmon in 6 oz. cans that I stock up on every time I go shopping.
Carnivore Salmon Patties
Ingredients:
3 slices bacon/salted pork belly
2 cans of salmon (6 oz.)
6 oz. crushed pork rinds (use leftover salmon can to measure)
6 oz. pulled pork (I always use Boston Butt cooked in crockpot)
1 tsp salt
2 eggs, whisked
Optional: juice of 1/2 a lemon, 1/2 tsp dill
Cook bacon, crumble once cooled and save grease in pan.
In a medium mixing bowl, place crumbled bacon, salmon, salt, whisked eggs and the optional ingredients of lemon juice and dill (only if you choose).
Using leftover 6 oz. salmon can, fill to brim with pulled pork and add meat to bowl.
Place handful of pork rinds in ziplock bag, seal and crush with mallet or back of large spoon. Fill up 6 oz. salmon can with crushed pork rinds until full, then add to bowl.
Mix and knead all ingredients with your hands until mixture is consistent.
Turn on stovetop to medium high heat and allow pan with bacon grease to heat up.
Pat out the patty mixture to make 4 to 6 burger-sized patties.
Place patties in heated grease, turning over every couple minutes once one side is browned. Add more butter to pan as needed.
I don't put anything on my salmon cakes—sometimes just a little extra lemon juice. But if you are looking for a low-carb sauce, try this keto remoulade.