Earlier in the week, we had a lot of rain thanks to Tropical Storm Alberto. We spent most of Sunday inside, but thankfully, rain the rest of the week has been overnight or intermittent, allowing us to still get outside. And our last two beach days have been beautiful, so I can't complain.
This beach trip to Hilton Head Island, S.C., with my side of the family has been wonderful. My kids are at a really good age for the beach, though they have all napped almost daily out of pure exhaustion. But I am ready to get back home tomorrow, if only for five days until our next beach trip.
Here are some of my recent Friday Faves that we've been loving at the beach this week:
K I D S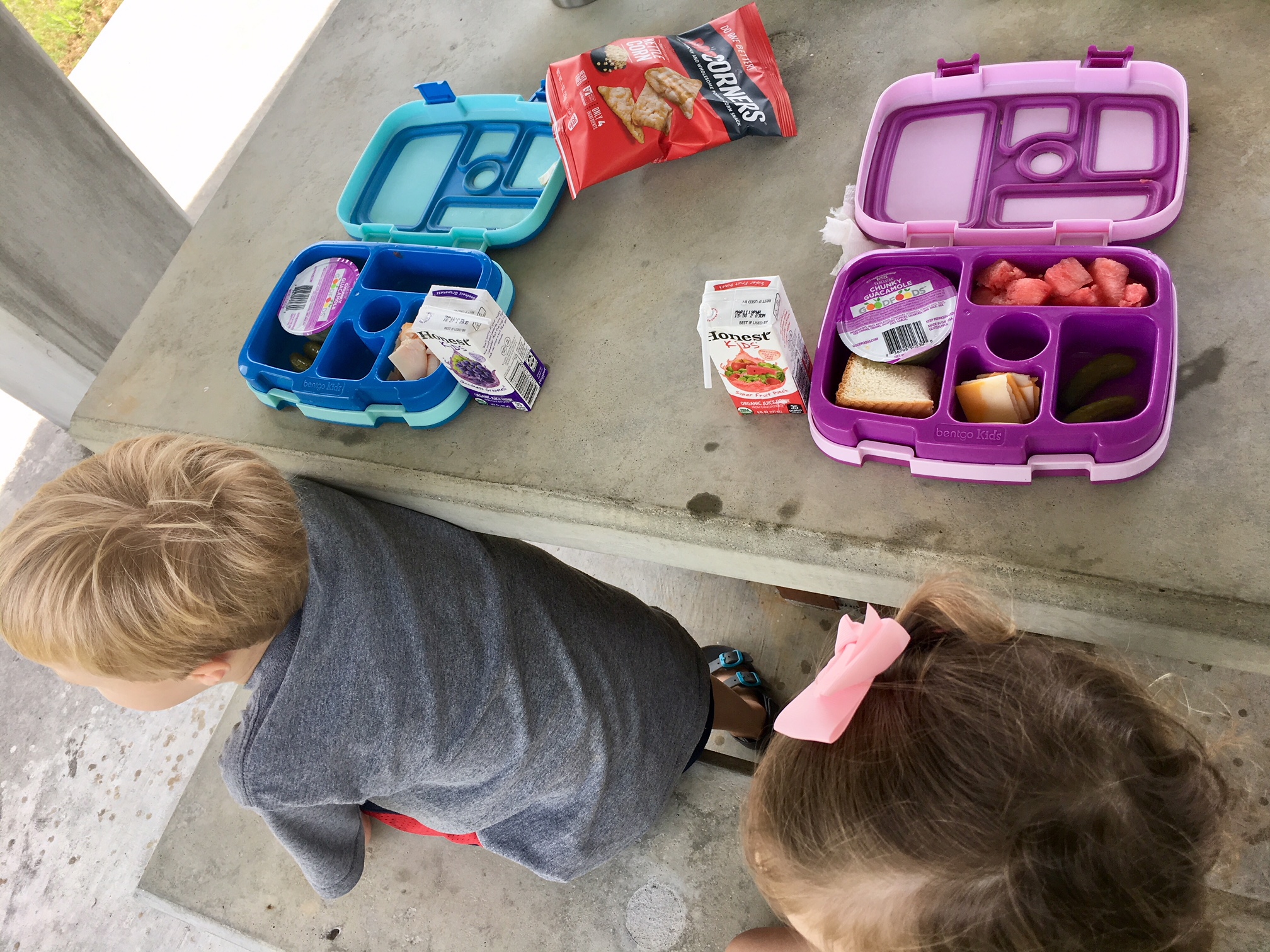 I purchased three of these lunchboxes during a lightening deal on Amazon nearly two years ago and we have gotten our money's worth since. I packed the kids' picnic lunches in these for the drive down to the beach. Despite the ice melting in the small cooler I brought them in, no water made it into these boxes. They truly are leak proof from the inside or the outside. I often pack Sunbutter for Beau or yogurt for Scarlett in one of the sections and I've never had it leak.
Although Scarlett gets a ton of wonderful hand-me-downs from her cousins on both sides, I passed down most all of her swimsuits from last year, thinking that the next batch for this year would fit. But now that she's not in a diaper, all of her hand-me-down swimsuits are simply too big for my tiny girl. So I splurged and ordered her three new swimsuits from Ruffle Butts on a whim (thank you Facebook advertising). Thankfully, I had a coupon, but I must say that the suits are well made and absolutely adorable. Despite being 3½ this summer, I ordered her a size 2T for the swim shirt sets and they fit perfectly.
Speedo Ventilator Mesh Equipment Bag 
We had a mesh bag for beach toys from a couple years ago, but it had no closure at the top, which means that practically every time I set it down the toys toppled out. So I found a great deal on one on Amazon (cheaper simply because it's yellow) and it's been perfect at the beach. It fits all our beach toys—and I even stuffed all the kids puddle jumpers into it for packing on the trip down.
Badger – SPF 35 Kids All Season Face Stick
Last summer, we discovered that Scarlett is super sensitive to sunscreen. She gets puffy and red and blotchy on her face when she reacts to most sunscreens—and we have tried a ton of natural brands. I still haven't pinpointed the exact ingredient to which she's allergic though. Last summer, the face stick sunscreen from BeautyCounter worked great. But the first time I tried it this year, she broke out again. I was at a loss. So I ordered a face stick by Badger and so far she's had no reaction to this sunscreen. If you have a kid who is sensitive to sunscreen, this one seems to work.
Two years ago, I ordered these Columbia sunhats for my kids. They have held up super well and offer great coverage. Last summer, I got similar Columbia hats for me and the husband, because we're only getting older and I'm being more diligent about taking care of my skin. Even on the windiest days at the beach, these hats have stayed on because of the drawstring cinching.
P R E G N A N C Y
Maternity Swimsuits
I'm really going out on a limb posting pictures of me in a swimsuit at 30 weeks pregnant. But this fourth pregnancy is the first time I've worn a tankini pregnant. With my first three pregnancies, my slightly younger self wore bikinis without shame. But something changed once I hit 35. Maybe it's me—or maybe it's the fact that this baby is measuring the largest of any baby, so I'm feeling more self conscious. But at any rate, I ordered some maternity swimsuits [suit 1, suit 2, suit 3] from Motherhood Maternity (all on sale and all size medium) and crossed my fingers that they would fit. Thankfully, they did and they should fit until delivery. Besides two beach trips, living on the lake means frequent trips down to the dock or out on the boat to swim, so I know I'll get my money's worth out of these swimsuits.
Extra Hands
Growing up, my grandparents always came with us on beach trips—and now I understand why. Having a couple extra sets of hands when you're in a different environment is a huge help. My dad will help watch the boys at the pool behind our beach rental while I make lunches. Or my mom will help to diffuse a tantrum as I'm bathing another child. My kids have more fun than ever at the beach, but they are also more exhausted than ever. So having extra hands helps to spread out the adult attention and ensure a great trip in the end.
M A M A
Biking
Besides the beach, one of my favorite things to do on Hilton Head is bike around the island. We haven't biked as much as normal this year, due to the rain, but we've still gotten our fill. Biking probably isn't the best exercise for someone who's 30 weeks pregnant, but I just couldn't pass up a couple opportunities to ride this week. Surprisingly, sitting on the seat was fine, but I had to sit very straight and tall to accommodate baby and give my lungs enough space to breathe. The hardest part for me was keeping up with the rest of our biking crew (with a child on the back of a bike). Pedaling too hard or too fast made my quads twingy like they were about to cramp. So I just went at my own pace, truly making it a leisurely joy ride, and all was ok.
Minivan Mama
I certainly never dreamed of owning a minivan when I was younger, but with three kids (and a fourth on the way) I can't imagine not having one. My Honda Odyssey is a 2007, and we'll likely run it into the ground before getting a new minivan. The automatic sliding doors alone are worth a switch to the mom mobile. Traveling to the beach by myself with the kids was easy and there was plenty of room for everything. I'm hoping our transition to four kids in the minivan will go seamlessly.
R E C I P E S // F O O D
I made this simple but delicious recipe from Pinch of Yum earlier in May, and decided to make it again to serve as our meal for when we arrived at the beach on Saturday. When we got to Hilton Head Island, we went straight to the beach to enjoy a bit of sunshine, so having this meat ready to go made it easy to prep a quick dinner for everyone after a long day of traveling. I sauteed onions and bell peppers to place on top, along with Pinch of Yum's Magic Green Sauce, which is also amazing.
Seafood
I'm happy to report I've had my fill of seafood this week. From homemade low country boil and shrimp fajita bowls, to restaurant seafood chowder, flounder and crab cakes, my belly is happy and my craving for good seafood has been satiated. We do eat quite a bit of fish at home, but fresh seafood is so much better.
M I S C E L L A N E O U S
Coming Home to a Clean House
Growing up, my mom always did her best to have the house fairly clean the morning we left for the beach each year. Now that I'm a mom, I totally understand it. I'm not an overly clean person, but I do like a tidy house. So I spent the afternoon before we left picking up the house and vacuuming. Now, when we get home tired and exhausted tomorrow, I can focus on unpacking instead of the state of my house.
Cousin Time
My kids made tons of great memories with their cousins this week. My sister and her crew were only here half the week, but all our kids played their hearts out—jumping waves, racing across the beach and doing cannonballs in the pool.
In less than a week, we go back to the beach to see more cousins—and my kids can't wait. We will have to spend the second half of June with some R&R after two back to back trips.