We made it through Week 1 on the Carnivore diet and in so many ways it was easier than I thought it would be, despite some bumps along the road. But I'm still in the transition phase, so I'm giving myself a pep talk that change is coming soon!
One week ago, my husband and I started the Carnivore Diet for a myriad of reasons. My No. 1 reason for starting this meat diet was to increase energy and decrease my reliance on caffeine. Despite weight loss not being a goal (in fact, my husband hopes to gain weight), it still happened to us this first week. I lost 3 pounds within 48 hours, most likely due to water weight. By the end of the week, my body had adjusted and I was down only 2 pounds overall. I'll give a more in-depth update of our first two weeks next week, so stay tuned.
I thought that recapping my first several weeks on the Carnivore Diet would serve as a great record for me of my personal transition as well as insight for others who are thinking about trying this meat-only diet. I am by no means an expert on this diet or a medical professional, so my approach may not be the best for everyone. We are learning as we go and adapting as needed, as you'll see below in my account of Week 1 on the Carnivore Diet.
Week 1 Food
They say Week 1 on the Carnivore Diet is the hardest to get through, and I've been giving myself a pep talk using that as ammunition. Of course, I've also heard that transitioning to fat for energy (becoming "fat adapted") can take 2 weeks to a month, so I'm also mentally preparing myself for a longer transition.
I'll talk more about it in my two-week recap, but it honestly hasn't been as bad as I thought it would. Increased salt, meat and fat has done a wonderful job at suppressing any cravings. I have cut sugar out of my diet before for a period of time, but I didn't change much else, which means those sugar cravings were hard to overcome. Maybe I'm mentally stronger (or more stubborn) this time—or maybe fat is the greatest satiating tool that ever existed.
I started the Carnivore Diet by using the free version of the Carb Manager app. The Carnivore Diet doesn't promote counting macros, but since this is all new to me, I wanted to make sure I was getting enough fat since it's not intuitive. I chose the Carnivore setting for the app and selected my activity level, which suggested these daily breakdowns for me:
183g of fat
137g protein
0g carbs
2196 calories
I've hit fairly close to those marks every day, though the first couple days I had more protein than fat intake and had to add more fat to my diet.
Week 1 averages:
164g of fat
153g protein
15g carbs (I had 26g of carbs the first day, then averaged less than 10g each day after that)
2139 calories
Many proponents of the Carnivore Diet preach a 1:1 to 2:1 ratio of fat to protein. Based on my Week 1 averages, I got plenty of protein each day but could stand to get more fat if I go with the suggestion from the app. So this is something I will have to tweak a bit to see how my body reacts.
We are not doing any type of intermittent fasting on this diet at this point. It's enough just getting our bodies adapted. Plus, I'm not mentally or physically ready to sit down and eat a 2,000-calories meal or even two 1,000-calories meals. Maybe that will change over time.
Here's a look at some of our food from Week 1:
We purchased 133lbs of meat from Costco right before we started the diet and have been making our way through out freezer. For me, breakfast has been 3 eggs with cheese and bacon/pork belly. I will snack between meals on some Whisps, a slice of cheese or a cup of homemade bone broth. (Carnivore doesn't promote snacking and instead says you should eat more at your meals. But I will probably end up snacking some the first two weeks until my body adjusts.) My lunches have been hamburgers with cheese most days. It's crazy because my body is craving them by lunchtime. Most days I eat lunch around 11 or 11:30 since I eat breakfast before 7 a.m.
Dinner is a myriad of options. We've done ribeye steaks, hamburgers, chicken thighs, chuck roast, salmon, pork spare ribs and pork tenderloin. I don't mind keeping breakfasts and lunches the same if we mix it up for dinner.
I thought we were going to spend a week transitioning off vegetable carbs, so I had 1/4 a sweet potato on Day 1 after our hard workout and a romaine salad for dinner that night. But I found that I was ok and didn't really need the transition so we decided to cut veggies cold turkey after Day 1.
I also drank tea with a teaspoon of honey the first two days, but also realized that I wanted to cut out all sugars for the first month while my body adapts. We have talked about adding in honey post-workout after a month or so.
Beside two teas the first two days, my drinking staples have been water, butter coffee and the occasional cup of bone broth. Besides tea, the only other drink we normally have while not on Carnivore is homebrewed kombucha. Farther down the road, we have some ideas for adding a cup of this into the diet, but at this point we are trying to be as strict as possible to welcome the good results sooner.
Week 1 Fitness
As a couple, we really enjoy fitness and physical activity. We knew that despite how we felt transitioning to the Carnivore Diet, we would continue to be physically active. Because I am still transitioning to using fat vs. carbs for fuel, I found myself a little more sluggish in my workouts and pickleball games. I also got winded more quickly when I exerted energy. But regardless of how I felt going into an activity, I know my body and that I always feel better once I push through. So we were active in some form every day of Week 1 and I think it helped me not just physically, but mentally.
Day 1: Friday WOD
This was after our first Carnivore meal, which was simply eggs, cheese and bacon. Typically on hard workout days, we'd have rice or potato thrown in for energy in the morning.
This was a super hard workout, carbs or no carbs. It took more than 25 minutes, but we were still using stored carbs for fuel.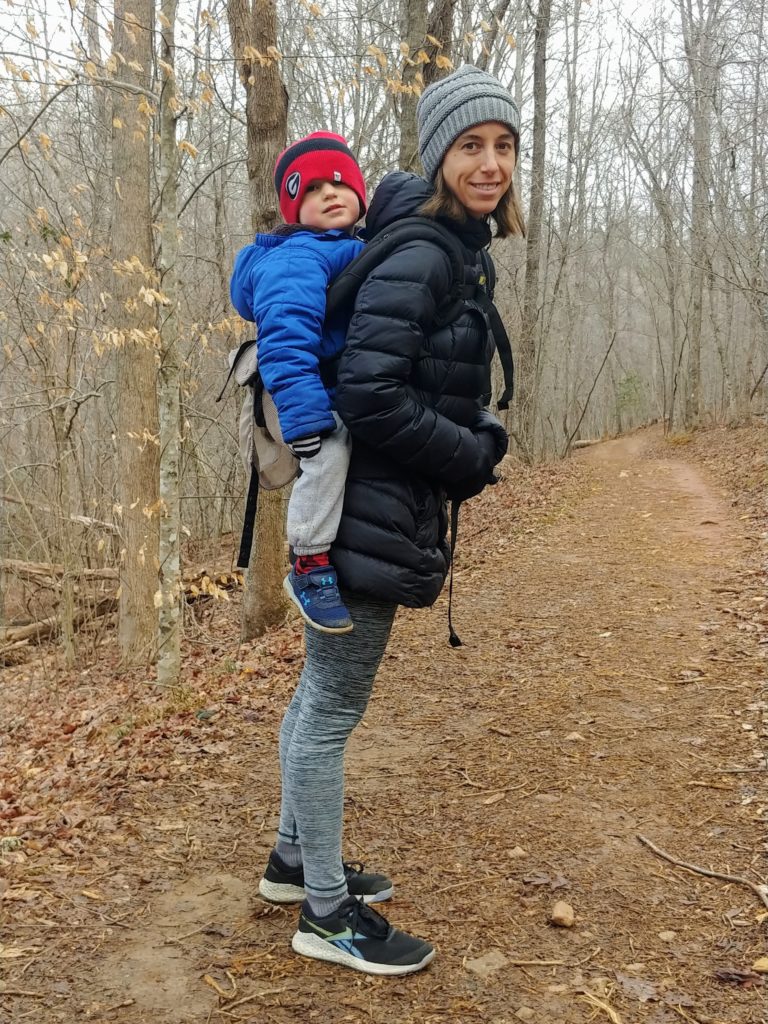 Day 2: Lake Zwerner Trail Hike
We took a favorite family hike around a nearby lake. It was 3.2 miles, and I ended up babywearing my 38-pound toddler roughly half of the way. Between the previous day's workout and the new diet, I definitely felt it hiking up the hills and got winded more easily.
Day 3: Pickleball
We started playing pickleball 10 months ago during quarantine and now are hooked. Most of the time we play singles, which is intense and more physically exhausting than doubles. Our oldest boys are learning how to play and love it.
Day 4: Track Workout
We did a full family track workout at our local college. We pushed the toddler in the jogging stroller while completing:
3 rounds:
100m run, 10 pushups
100m run, 10 lunges
100m run, 10 situps
100m run, 10 burpees
100m run, 10 air squats
Except we upped it to 20 reps our last round to get our boys to expend more energy 🙂
Day 5: EMOM workout and pickleball
We kicked off the day with an early morning workout, starting before 7:30 a.m. (EMOM = every minute on the minute.) This was a great workout that gave us time to recover a few seconds every minute. We are holding off on traditional cardio workouts until our bodies are fully fat adjusted for energy.
Day 6: Swimming
I completed 24 25-meter laps cycling between breaststroke, kickboard and freestyle using a foam dumbbell between my legs for extra buoyancy. Typically, I would not use the dumbbell, but I felt heavy in the water and my muscles were sore from pullups the day before. As always, it felt great to move my body in water. My husband and I both did notice that our bodies were very aware of the salt in the saltwater pool. It's like our bodies were sensitive to the salt and wanted to ingest it (which of course we did not!)
Day 7: Pickleball
Another day of singles pickleball. We are at the point where we are trying to up our game so we are playing as often as possible to improve and try new strategies.
Week 1 Feels
Like I mentioned above, the biggest takeaway for me from Week 1 was the lack of cravings. I am a chocoholic—and I even made my husband hide our chocolate before we started the Carnivore Diet so that I would be less tempted. I'm just amazed at the way that fat has curbed those cravings.
Related: Why One Healthy Couple is Starting the Carnivore Diet
Despite the good parts of Week 1, there were also some bad parts. A couple hours after my dinner on Day 3, I got super nauseous all of a sudden. I eeked out a request for my husband to get me a bowl in case I threw up. After struggling for a while, I finally took a zofran to stop the nausea. It worked like a charm and I was able to sleep that night. I woke up the next morning feeling a little off, but fully functioning. The feeling wore off after lunchtime. I'm not exactly sure what instigated this nausea, but we did have some delicious chuck roast for dinner and I've heard others on the Carnivore Diet say that too much rendered fat (especially early on) can cause nausea.
Besides the nausea, I had my first and only (thankfully small) bought with diarrhea the next morning. I had read about this and knew to expect it—some people have it for the first two weeks. In my case, it probably happened because my body is adapting to fat absorption. (See reason #2 here.) This is why I think the rendered beef fat caused my nausea the night before.
I also questioned if I was feeling kidney pain or hormonal pain or muscular soreness from our workouts on this day. So to be safe, I put 1 tbsp of fresh lemon juice (for its citrates) in my water for the next three days just to play it safe.
Another thing I noticed during Week 1 of the Carnivore Diet was a shift in my energy. I'm still waiting to be full fat adapted and get that steady energy that everyone talks about. But I found it interesting that I have always been a morning person and have the most energy up until just after lunch. Late afternoon my energy starts dropping every hour until bedtime. But this past week, it took my body longer to get going in the morning, but my afternoon energy was slightly higher, even keeled and lasted until dinnertime. Since my biggest reason for starting this diet is increased energy, I will continue to monitor even the small nuances of energy shifts.
Before the diet, I was drinking two cups of coffee in the morning around 5 a.m. and 1 cup of high-caffeine tea or coffee after lunch. I started Week 1 of the Carnivore Diet with only 1 cup in the morning and 1 in the afternoon. I hope to drop my afternoon cup eventually once I am fat adapted and more energetic.
Overall, it was a great first week despite the ups and downs—and I'm hoping that my body will start burning fat as fuel by the end of Week 2.