If life is hectic, but you feel the Holy Spirit prompt you to welcome, serve or love someone, here are 7 ideas for quick ways to show hospitality in less than 10 minutes.
One of my favorite meals to cook for my family is my beef stew. Though many of my meals include the crockpot or instant pot, my beef stew is a slow process that requires my (one and only) Le Creuset Dutch oven pot and about half a day's time from start to finish.
The end result is always worth the time and effort, but it's a meal that I have to plan for ahead of time. Because of this, it's a meal I rarely take to others when I'm being hospitable because extra time on my hands (being a mom of four kids) is a rare occurrence. Of course, that doesn't excuse me from practicing biblical hospitality.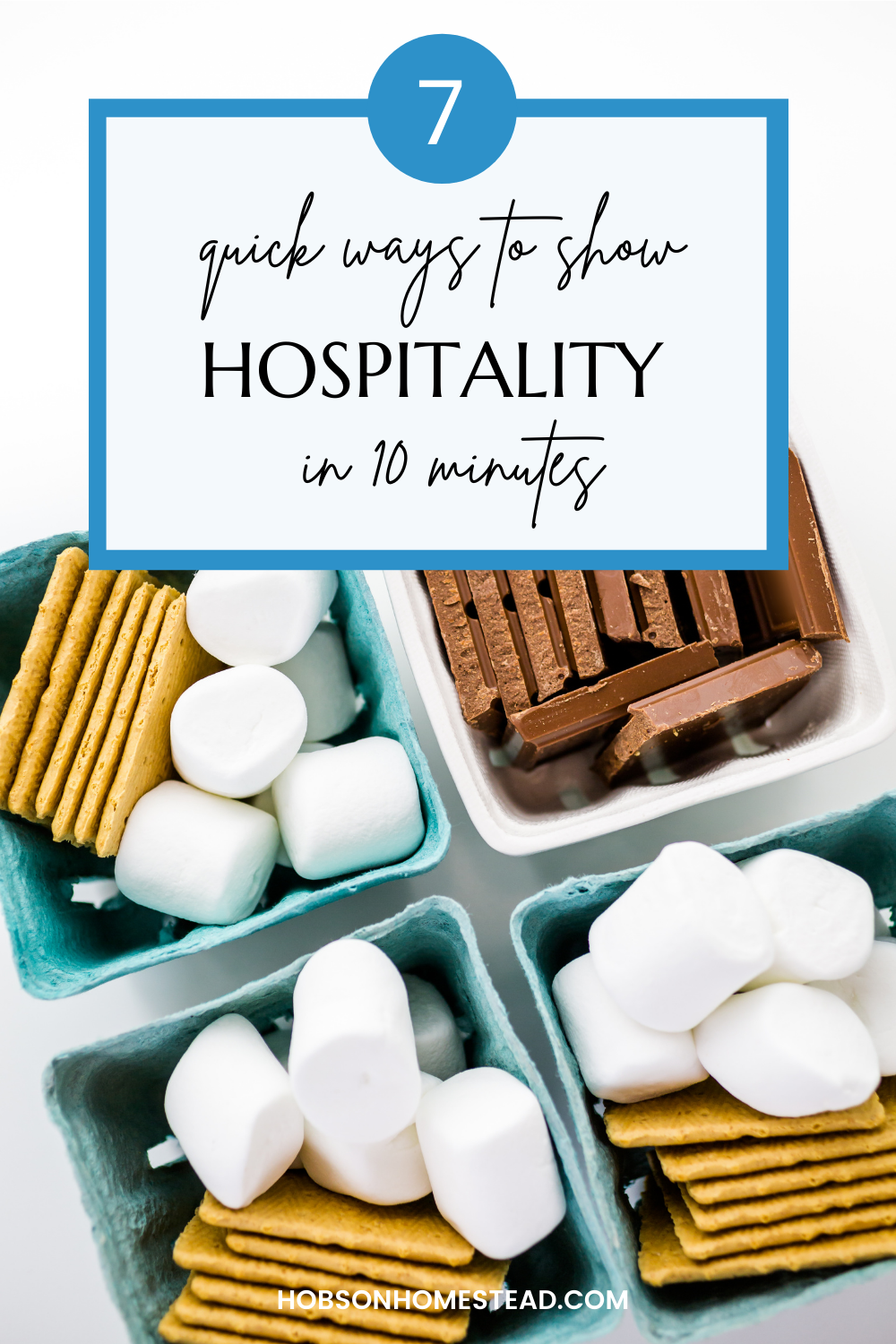 I'm not sure about you, but many times, I feel the Holy Spirit prompt me to fill a need and serve others right when I'm in the middle of caring for my own family.
For a while, I tried vowing to remember the prompting to serve someone, but all too often, I would forget or recall the prompting at the worst of times (such as the middle of the night).
Then, I tried jotting down a quick note as a reminder. But I found that my list would get buried under a pile of other lists and snail mail and school papers.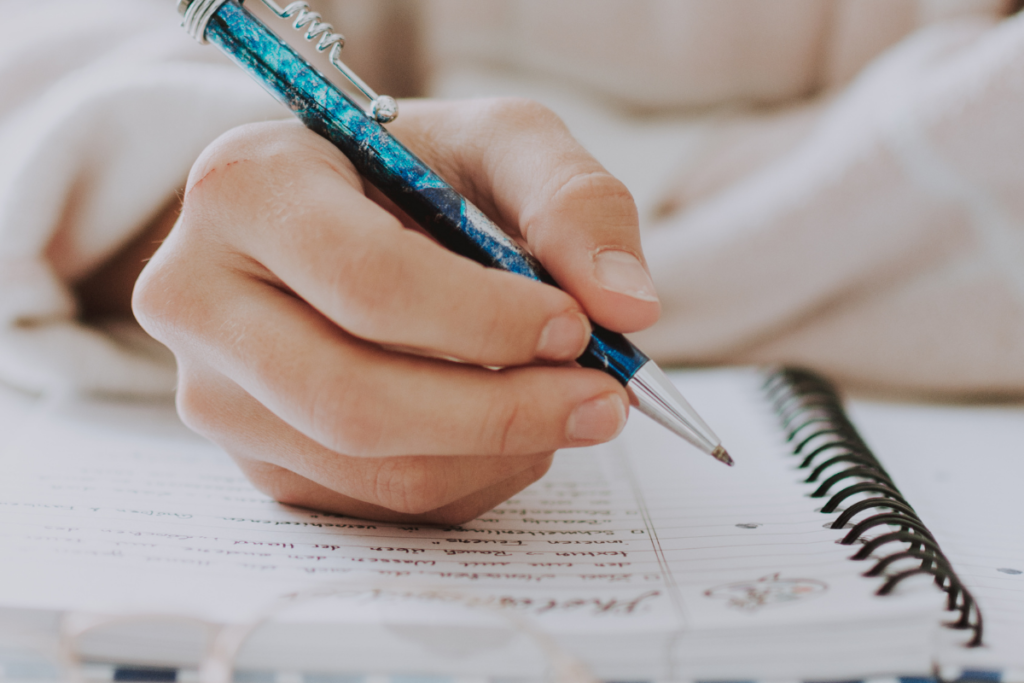 So now, I scribble down a line in my prayer journal and then pencil in the person's name on my wall calendar. This has been the most practical way for me to not only remember that heart prompting, but also to pray for that person and make time for serving within my family calendar.
Related: 15 Ways to Show Hospitality to a New Mom
And though God hasn't given me a weekly quota for showing Biblical hospitality to others, I still like to glance at my calendar to ensure I'm not spending more time writing about hospitality than I am acting on hospitality. Because sometimes, days and weeks blur together before I realize that I've looked inward at my own selfish desires and family too much instead of outward at the needs of others.
So if I see a gap on my calendar where I haven't served others in a while, it's a prompt for my heart to pray that God slows down my pace and opens my eyes to see the needs of others. And just remember that needs aren't always physical, oftentimes, women simply need a word of encouragement, support or understanding.
When God's people are in need, be ready to help them. Always be eager to practice hospitality.

Romans 12:13 NLT
The great thing about God's biblical mandate of hospitality is that it doesn't require a half day of preparation like my beef stew. Instead, it only requires prepping my heart for others, so that my actions of service can follow the path God has laid out.
So if you feel the Holy Spirit prompt you to welcome, serve or love someone who has crossed your path, I've got 7 quick ways for you to show biblical hospitality that truly take less than 10 minutes to throw together. These ideas will be helpful if your short-term memory is like mine or if you have a hectic schedule.
Gift a Potted Plant
If you've got 5 minutes, swing by the store and grab a cute potted plant, such as a succulent (fresh or fake!). Nowadays, most stores seem to carry small potted plants, even in their checkout lines. Look for cute options at Walmart, Target and TJMaxx, as well as local grocery and hardware stores.
Women love adding lively greenery to their homes (greenery goes with everything!), and your show of hospitality and thoughtfulness will go a long way to surprising and uplifting them.
Write a Thoughtful Note
It's true, a handwritten note says so much in these days of advanced technology. Though we tend to associate hospitality with food, sometimes a word of encouragement is what should be on the menu.
Spend a few minutes hand writing a note to a neighbor or friend. Offer a word of encouragement or congratulations. Squeeze in a poignant Bible verse or let the recipient know you're praying for her. Even invite her to a future event or a coffee date.
Assemble a Treat Kit
Who wouldn't love to be surprised with a special themed treat kit? Not only is it fun and unique, but you can also assemble one in just a few minutes! Check out these ideas to jumpstart your creativity:
S'mores Kit: Assemble a kit of graham crackers, chocolate bars and marshmallows, which is a huge hit if the recipient has kids. And thankfully, s'mores can be enjoyed year round.
Movie Kit: Drop off a box of popcorn, a couple candy options and some bottles of soft drinks or juice boxes.
Mason Jar Kit: Most of us keep the ingredients for chocolate chip cookies in our pantries at all times, so if you've got a couple of unused mason jars, layer them with flour, baking soda, salt, chocolate morsels and sugar using this recipe.
Give a Gift Card
I know many gift givers are against gift cards because they are less personable. But gift cards are a quick easy way to offer hospitality and thoughtfulness while allowing the receiver to customize the purchase and choose when to utilize it. And as the giver, you can easily and quickly customize a gift card to your budget.
Most grocery and drug stores carry an array of options—or you can purchase a digital download from sites like Amazon. A $5 gift card to a coffee shop like Starbucks will cover a fun drink one morning. Or consider a gift card to Apple, Lowe's, DoorDash, Fandango and more.
Drop Off a Favorite Book
Whether you're a reader of fiction or non-fiction, dropping off a favorite book with a friend or new acquaintance says so much more than words. It shows that person you took the time to think of her and share a book that entertained or impacted you.
Consider giving her your favorite parenting book, fiction beach read, impactful Christian book or devotional. Gifting a book to a friend lets her know you are thinking of her specifically and are invested in her life.
Deliver a Cup of Coffee
If you know of someone who's had a long week, the gift of a cup of specialty coffee could be a simple gesture that makes a big impact on their attitude. Dropping off a to-go cup of joe at their doorstep, workplace or even in the school carpool line is a quick and easy way to show hospitality and thoughtful acknowledgement of any circumstances they may be going through.
Present a Fun Candy Card
Candy cards are the perfect way to get your message across in a fun way that is sure to bring a smile to someone's face. You can download and print cards from Etsy or come up with your own message. Then, you just buy a handful of candy bars to fill in the blanks.
Candy cards are a great way to thank special people in your life or to welcome new people into your life, such as new neighbors.
Here are some ideas from Etsy to get you going:
What is one of your favorite ways to show quick hospitality?