Meditate on these Bible verses about gratitude to center your focus on God's providence.
We all get in a funk at times. Instead of being grateful for God's provision and providence in our lives, we tend to focus on our daily problems.
I'm prone to get in a funk when my eyes are too often cast downward at the world instead of upward at Jesus. My focus and priorities slide—and my attitude isn't far behind.
But God often uses the people in my life (thank you husband!) and ordinary circumstances to snap me out of my funks.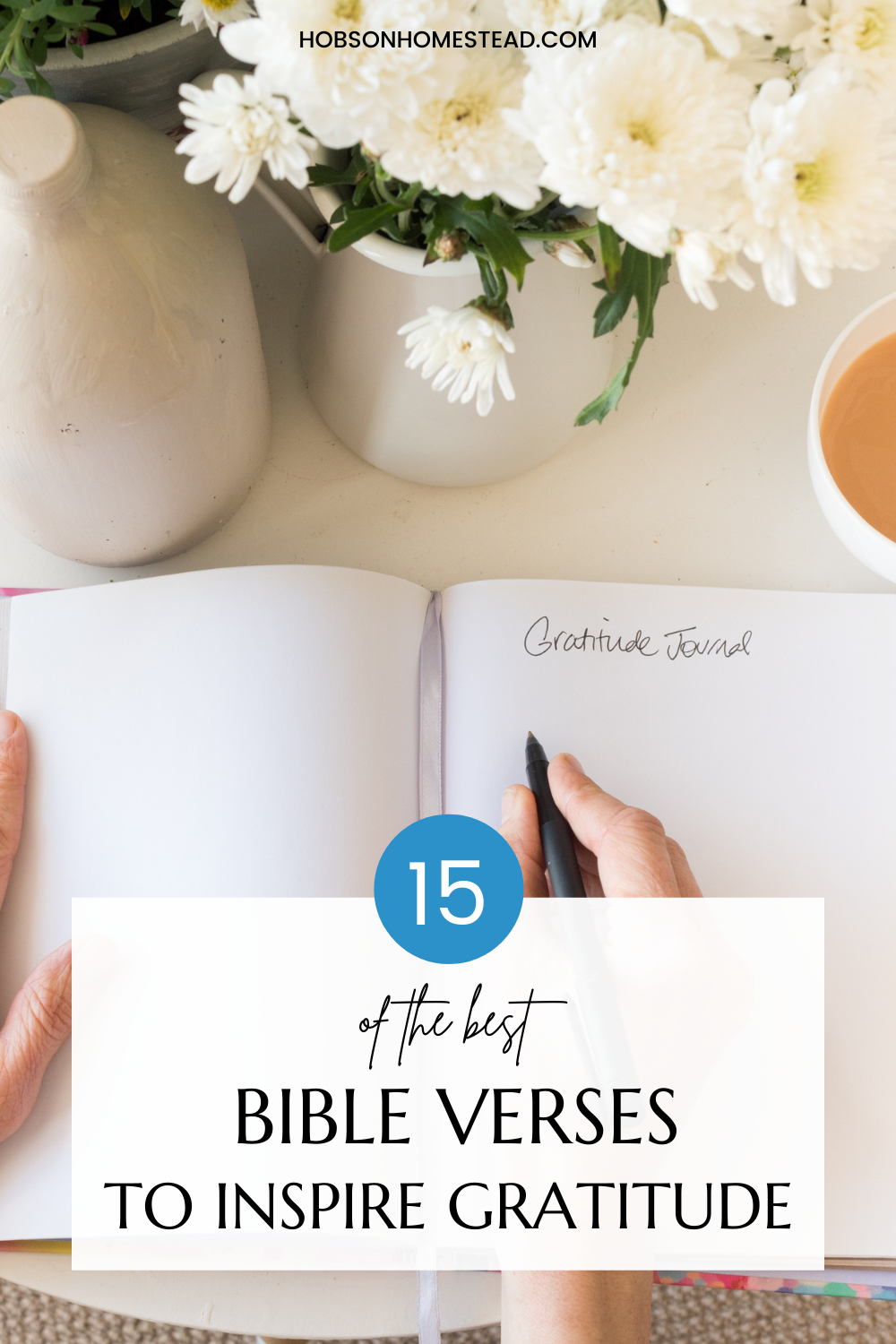 I frequently implore my kids to have an "attitude of gratitude," but so many times, that quip of a request ricochets back at my own heart.
Related: Biblical Hospitality is a Posture of the Heart
Instead of focusing on me (oh, what a dangerous trap), I need to shift my focus on God. And meditating on Bible verses about gratitude are just the way to shift away from myself and on the awesomeness of God.
Whether you're in a funk or simply seek biblical encouragement, I hope these 15 Bible verses about gratitude and thanksgiving shift your heart the same way they re-focus mine.
15 Bible Verses on Thanksgiving and Gratitude
Rejoice always, pray continually, give thanks in all circumstances; for this is God's will for you in Christ Jesus.
1 Thessalonians 5:16-18
---
Oh give thanks to the Lord, for He is good; for His steadfast love endures forever!
1 Chronicles 16:34
---
Therefore, since we are receiving a kingdom that cannot be shaken, let us be thankful, and so worship God acceptably with reverence and awe, for our "God is a consuming fire."
Hebrews 12:28
---
Come, let us sing to the Lord!
Let us shout joyfully to the Rock of our salvation.
Let us come to him with thanksgiving.
Let us sing psalms of praise to him.
For the Lord is a great God,
a great King above all gods.
He holds in his hands the depths of the earth
and the mightiest mountains.
The sea belongs to him, for he made it.
His hands formed the dry land, too.
Psalm 95:1-5
---
Thanks be to God for His indescribable gift!
2 Corinthians 9:15
---
Rejoice in the Lord always. I will say it again: Rejoice! Let your gentleness be evident to all. The Lord is near. Do not be anxious about anything, but in every situation, by prayer and petition, with thanksgiving, present your requests to God. And the peace of God, which transcends all understanding, will guard your hearts and your minds in Christ Jesus.
Philippians 4:4-7
---
Through Jesus, therefore, let us continually offer to God a sacrifice of praise—the fruit of lips that openly profess His name.
Hebrews 13:15
---
This is the day that the Lord has made; let us rejoice and be glad in it.
Psalm 118:24
---
Let the peace of Christ rule in your hearts, since as members of one body you were called to peace. And be thankful. Let the message of Christ dwell among you richly as you teach and admonish one another with all wisdom through psalms, hymns, and songs from the Spirit, singing to God with gratitude in your hearts. And whatever you do, whether in word or deed, do it all in the name of the Lord Jesus, giving thanks to God the Father through Him.
Colossians 3:15-17
---
But thanks be to God, who in Christ always leads us in triumphal procession, and through us spreads the fragrance of the knowledge of him everywhere.
1 Corinthians 2:14
---
Oh give thanks to the Lord, for He is good, for His steadfast love endures forever! Let the redeemed of the Lord say so, whom He has redeemed from trouble and gathered in from the lands, from the east and from the west, from the north and from the south.
Psalm 107:1-3
---
Don't be drunk with wine, because that will ruin your life. Instead, be filled with the Holy Spirit, singing psalms and hymns and spiritual songs among yourselves, and making music to the Lord in your hearts. And give thanks for everything to God the Father in the name of our Lord Jesus Christ.
Ephesians 5:18-20
---
And on that day you will say, "Give thanks to the Lord, call on His name. Make known His deeds among the peoples; make them remember that His name is exalted." Praise the Lord in song, for He has done glorious things; let this be known throughout the earth.
Isaiah 12:4-5
---
Devote yourselves to prayer, being watchful and thankful.
Colossians 4:2
---
Enter his gates with thanksgiving
and his courts with praise;
give thanks to him and praise his name.
For the Lord is good and his love endures forever;
his faithfulness continues through all generations.
Psalm 100:4-5
What are your favorite Bible verses on gratitude?